In this version 1.1.11, we have significantly added features and improved stability as mentioned below.
※ Patch Highlights
Flip a single page

(lab feature)

Resize pop-up documents

(lab feature)

Improved sensitivity when switching document pages

Reference link deletion 

Support exporting multiple documents

Provide document export options

Improved text box twists when exporting

Improved eraser area determination

Improved continuation of blurred documents

Improved fuzzy handwriting when taking notes after zooming in
2. Resize pop-up documents (Zooming in/out with 3 fingers)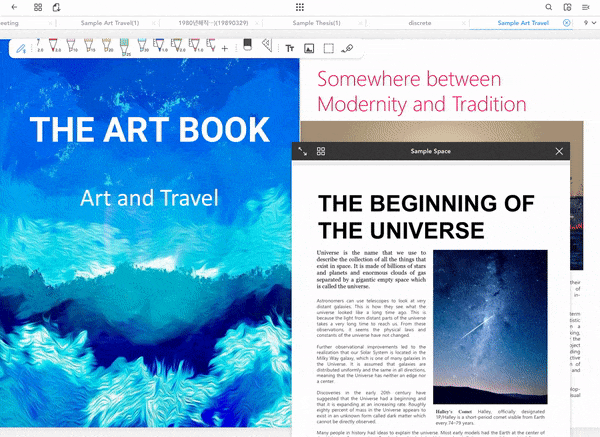 ※ The laboratory features are not fully-featured yet and must be activated through a separate setting.
Reference link deletion: side menu link long touch
2. Capable of opening Flexcil right away when exporting documents from other apps
3. Capable of opening the document right away by drag & drop from Files to document viewer
4. Export through Zip files when exporting multiple files: Currently, only one file can be exported due to iOS restrictions, and if the app receiving the file fails to process it separately, only one file will be sent. Therefore, exporting through a zip file is the most decent alternative.
5. Automatic decompression when importing compression (.zip) files through drag & drop
6. Provide document export options
Thinner laser pointer

Improved sensitivity when switching document pages

Move to top-level folder when selecting 'Documents' in File Manager

Provides side menu page slider feature
Fixed an issue where the document remains blurry and unclear.

Fixed an issue where the text boxes change the size and color of the letters when exporting them 

Fixed an issue where text data from some OCR documents could not be retrieved properly

Fixed an issue where OCR data was broken when exporting some OCR documents

Fixed an issue where documents were blurry in the normal scaled document

Fix an issue where areas outside the eraser range are deleted

Fixed an issue where the creation date of the documents changed to 1970 and were not opened

Fixed an issue where the app was shut down after opening the documents that were moved 

Fixed an issue where the app was shut down when using lasso tool  

Fixed an issue where certain areas of handwriting became blurry after zooming in the notes 

Fixed an issue where no bookmarks were added on mobile

Fixed a significant number of problems with forced termination because of problems regarding the memory while using the app

Improved the app stability and fixed minor bugs