Flexcil
Start Taking Notes Today!
The best note-taking & PDF app on iPad for better study and research.


4.6 star rating in the Apple App Store

Exclusively Selected by Apple
(check us out at all Apple Stores)

Top 1 Productivity Apps & Free Apps

Editor's Choice & Featured App
Advanced PDF Annotating, and Note-taking Experience
Flexcil is a study toolkit that allows us with PDF annotation, notes creation, and convenient sharing with others.
"Our way of studying has not revolutionized as much as technology witnessed over the years,

until Flexcil was born.

"
–  Apple  –
All-in-One Studying Tool
Review and utilize PDFs to study effectively. Use PDF reader, digital note, annotation, and reference manager in one page.
Natural & Simple UX
Use simple Gestures UX to annotate PDF and organize notes efficiently without interruption.
Time is Golden
Save time to read, organize, and edit materials. Use the time saved to concentrate on your study.
Flexcil was selected by Apple as the best note-taking app
Check out pre-installed Flexcil at every Apple Stores Worldwide.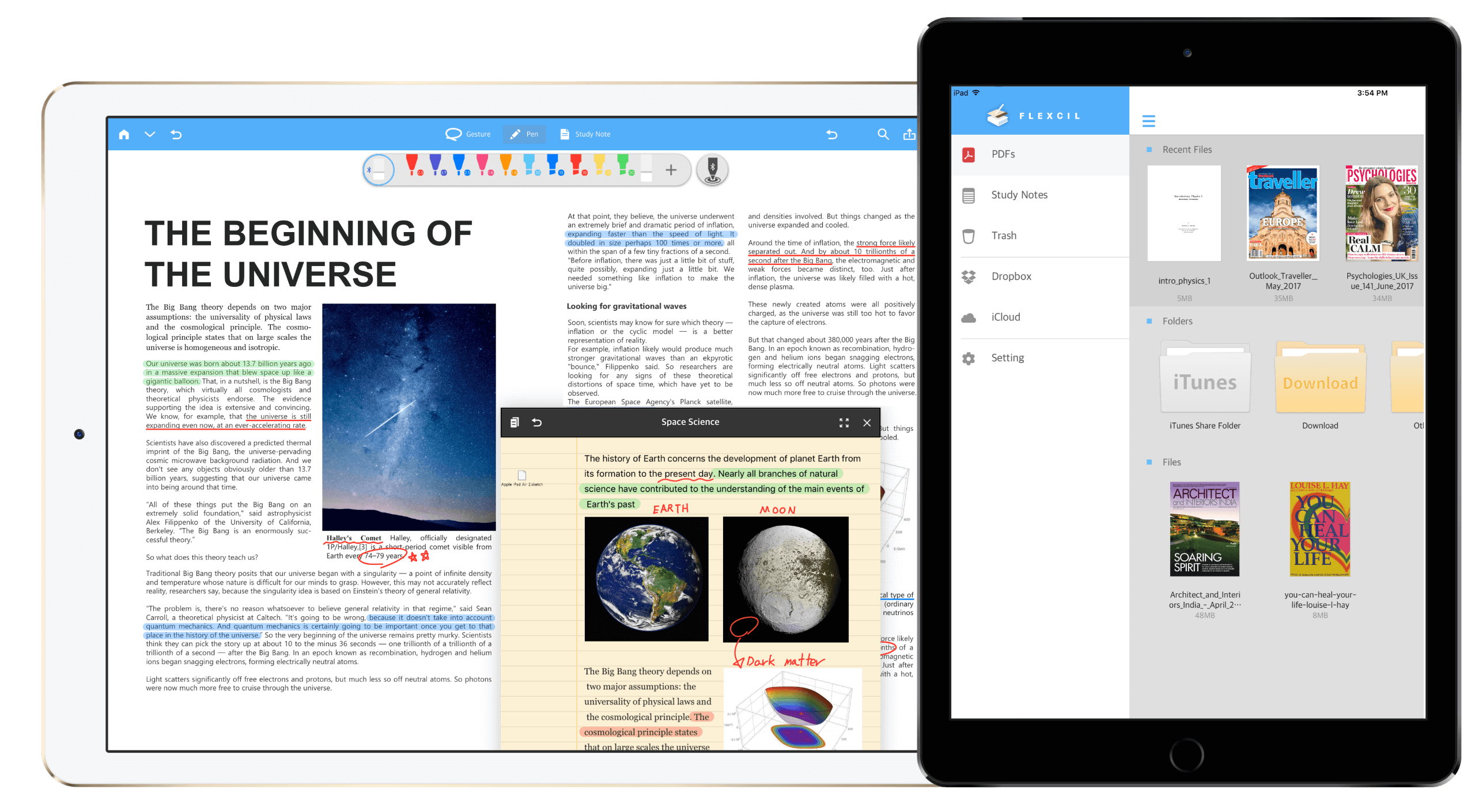 Pen Gesture Ux
You don't have to use Apple's shortcuts or click through menus and toolbars! With Flexcil, you can select text and images, and take notes by intuitive pen gestures.
PDF reader + Note taking
By combining PDF readers and digital notes, you can view while dragging books and notes at once to organize easily.

Boundless PDF Editing
Edit PDFs unlimitedly by merging, adding, and moving. You can also edit Notes as well!
Reaching data faster
All resources such as texts, images, notes, and etc. organized in Flexcil are linked systematically to trace your data easily and quickly.


Apple Pencil
Suits the latest Apple Pencil and Double-tap function

Cloud Storage
Aggregate a variety of cloud storage, including Dropbox, OneDrive, and Google Drive

Palm Rejection
Prevent unintentional palm and finger contact very precisely

Cover & Paper Template
Provide a variety of note templates such as Plain, Lined, Legal, Graph, Cornell, etc. as well as colorful note covers

Various Studying Toolkits
Provide various toolkits for studying such as Shape, Capture, Ruler, and Lasso Tools

2 Page view
View a 2-page document simultaneously enabling more comfortable and faster-reading experience.
Great note-taking app!
Exactly what I am looking for
This is the app I've been waiting for so long. My favorite feature of this app is that it allows me to hand write notes on a separate notebook while reading and annotating a PDF document.
Flexcil does all I need. Many thanks to the developers!
Easy to use and helpful.
This app just easy and simple to use and it saves a lot of time where I just need to carry my iPad without heavy textbooks for my works.
Great app for researchers!
This is a purposely designed app for digital note taking and documents highlighting/underlying. The ultimate purpose for these activities is to assist learning, memory and information retrieval. Flexcil allows one to perform these activities with minimal effort using gestures and these gestures are easy to learn and intuitive.
Great app for reading + annotating + taking notes at the same time.
The app is great for reading + annotating + taking notes at the same time. I really like that I can freely move the notes anywhere on top of the PDF, annotate with gesture, move annotations around, share notes across different PDF files, look up words in the dictionary, keyword search in PDF, etc. I highly recommend the app!
Flexcil originally started because our team thought carrying books around was a hassle. Textbooks are big and heavy, and you have to switch them for each class. Then losing a book or a notebook entails losing all the data that you've organized on them.
The purpose and dream of Flexcil is to lighten the bags of students around the world by replacing thick and heavy paper texts with light, digital text-books. Technology has been improved extremely, but how to study has not caught up. With Flexcil, studying becomes enjoyable and easier.
We want to innovate the study environment and digital study experience by providing the best convenient digital study tool.
Productivity Comes with Flexcil.