The Apple Pencil has undoubtedly been a game-changer for iPad users, revolutionizing the way we interact with our devices and unleashing our creativity.
However, with the ever-evolving technology landscape, there is now a many of impressive alternatives available that offer a delightful drawing and writing experience on your iPad.
Whether you're an artist, a student, or a professional looking to enhance your productivity, we've curated a list of five exceptional Apple Pencil alternatives that cater to different preferences and creative needs.
The Adonit Note Plus stands out as a top-notch Apple Pencil alternative tailored for iPad users.
With its impressive 2048 levels of pressure sensitivity, palm rejection technology, and programmable shortcut buttons, this stylus provides an excellent drawing and note-taking experience.
It is compatible with various iPad models, making it a reliable choice for all kinds of creative tasks.
The Adonit Note Plus also boasts a sleek design, comfortable grip, and long-lasting battery life, ensuring a seamless workflow for hours of creativity.
The Logitech Crayon is another standout alternative that works seamlessly with iPads, offering a fantastic writing and drawing experience.
Its low-latency design ensures minimal lag, making it ideal for both note-taking and sketching.
This stylish stylus automatically adjusts line weight based on pressure, providing a natural and expressive drawing experience without the need for pairing or charging.
Whether you're in the classroom or the boardroom, the Logitech Crayon is an excellent choice for enhancing your iPad productivity.
For those seeking a premium stylus experience, the Wacom Bamboo Sketch fits the bill perfectly.
With 2048 levels of pressure sensitivity and interchangeable pen nibs, this stylus allows for personalized preferences and precise strokes.
Its ergonomic triangular design ensures a comfortable grip, making it ideal for extended drawing sessions and detailed artwork.
The Wacom Bamboo Sketch is a reliable companion for creative professionals and artists seeking exceptional precision on their iPads.
The ZAGG Pro Stylus is a versatile and intuitive alternative that seamlessly works with iPads, offering a smooth and responsive drawing experience.
With its palm rejection feature, you can rest your hand comfortably on the screen while sketching or taking notes.
Whether you're a student, artist, or business professional, the ZAGG Pro Stylus is a reliable tool to enhance your iPad productivity.
The Meko Universal Stylus is a budget-friendly option that offers wide compatibility with various iPad models.
While it may not have the advanced features of some premium styluses, it provides a precise and smooth writing experience.
The stylus comes with a durable fiber tip that mimics the feel of a real pen on paper, making it an excellent choice for quick note-taking and doodling.
If you're looking for an affordable and reliable Apple Pencil alternative, the Meko Universal Stylus is worth considering.
Seamlessly integrates note-taking and PDF annotation with your stylus
The world of digital accessories continues to evolve, and with it comes a diverse array of Apple Pencil alternatives that cater to different creative needs and preferences. Whether you prioritize precision drawing, note-taking, or seamless compatibility, each of these five exceptional styluses offers unique features to elevate your iPad experience.
However, if you're looking for an app that seamlessly integrates note-taking and PDF annotation with your stylus, then Flexcil is a highly recommended addition to your productive toolkit.
Flexcil is a versatile app that allows you to annotate, highlight, and take notes directly on PDFs using your Apple Pencil or any compatible stylus.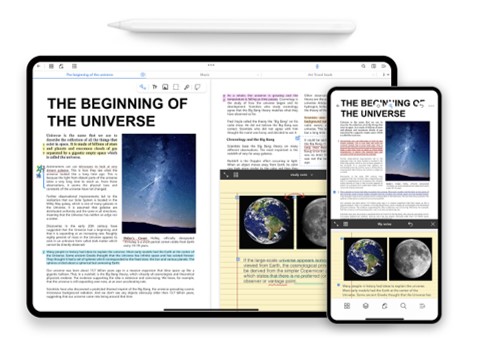 What sets Flexcil apart from other note-taking apps is its unique ability to view documents and take notes simultaneously within a single screen. The app also allows effortless transfer of document contents to your notebook through simple drag and drop functionality. A link is created by default when you drag and drop original content in your notes, enabling you to visit the link easily for reference.
The practical note-taking toolkit offered by Flexcil is extensive, including features such as an audio sync, multi-page view options, shape tool, and gesture features. These versatile tools enable users to take comprehensive notes, highlight essential information, and edit their work all at the same time.
With a focus on user experience, Flexcil provides a straightforward and intuitive interface, making it easy for users to get started and navigate through its functions. From reading to annotating and creating notes, Flexcil ensures every task is as convenient and efficient as possible.
In conclusion, by combining one of these exceptional Apple Pencil alternatives with the Flexcil app, you can unlock a world of productivity on your iPad.