If you are a student or an avid reader with an Android device, you'd agree that reading, editing, and annotating PDFs could be tedious and cumbersome.
We all have different ways we understand and retain knowledge. Some people prefer to read and edit their PDFs as they study. Others like to annotate, highlight, and organize their notes while they read. So, it's essential to perform these tasks seamlessly.
Thankfully, some apps make reading, editing, and annotating PDFs on Android less of a chore. These tools come with excellent features that let you study conveniently in all the ways you want with PDFs and on your Android device.
This article will discuss the top 5 reading, editing, and annotation Android apps you can install for the best study experience.
Let's take a look at them, shall we? 😃
Top reading, editing, and annotating apps on Android
Here are the best five apps to read, edit and annotate easily on your Android device:
Flexcil is the top reading, editing, and annotation app on our list because it comes with many unique features other apps don't offer. Apart from being an excellent all-in-one study tool that allows you to edit, annotate, and reference effectively, it enables other outstanding functions for a convenient reading experience.
For example, you can select text in paragraphs or a page and skip the rigor of underlining each word or sentence with the pen gesture feature. Even better, you can erase, bookmark and capture documents with pen gestures. This makes editing and annotation easier because you can perform them with a tool rather than go through multiple settings to execute these tasks.
Also, viewing the original document of a specific part of your note is easier with the reference link feature. A link is created by default when you copy original content in your notes, enabling you to visit the link easily for reference. This way, you can conveniently transition from your note to the original copy as you study, creating a flexible reading and editing process.
Another major highlight of using Flexcil is its ability to let you view PDF documents and take notes in a separate notebook simultaneously. Unlike other apps that require you to do a split view, Flexcil offers a pop-up viewer that lets you take notes as you browse through your documents.
Flexcil has many functional features that make study worthwhile, including dictionary and web search, bookmarks, full-screen view, cloud integration, and a host of others.
Finally, its interface is simple and intuitive, allowing you to read, edit, and annotate materials seamlessly. So, if you want to study efficiently on your Android device, Flexcil is the way to go!
Flexcil is also available on iOS. So, give it a try!
Xodo PDF Reader and Editor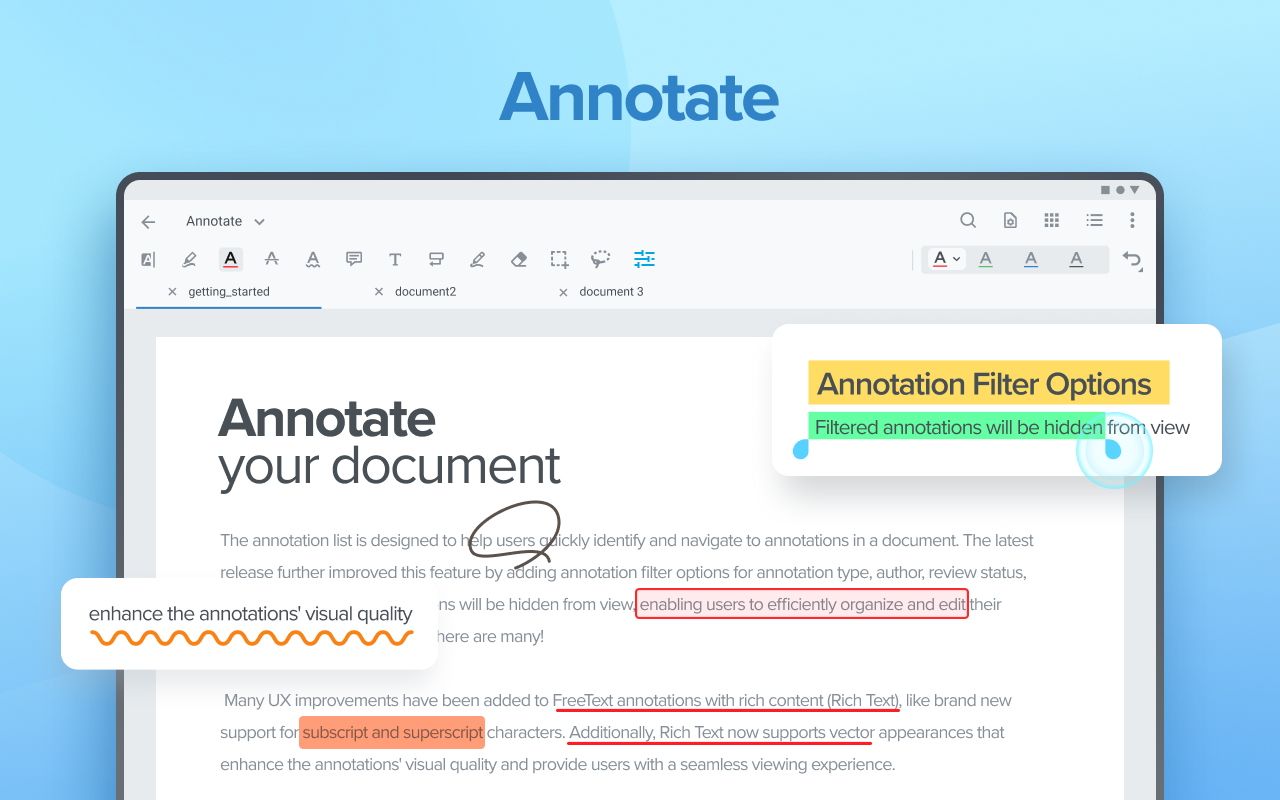 Xodo PDF reader is a comprehensive PDF viewer that lets you read, edit and annotate ebooks. You can write, highlight, and underline texts directly on the PDF when using the Xodo PDF reader and editor. Its integrated file manager, cloud storage support, and collaboration software instantly let you review and annotate your PDF files. You can also take notes from a blank page, and fill and sign PDF documents on your tablet or phone.
The Xodo PDF app has two primary functions; PDF reader and PDF annotator and editor. The PDF reader lets you bookmark pages to reference later, skip to specific pages and chapters with the table of contents, and compare PDF files simultaneously. Additionally, you can crop pages to maximize the screen, search texts, zoom, and do much more with the PDF reader function.
On the other hand, its PDF annotator and editor let you underline, highlight and strike out text. You can also add comments and shapes on PDFs as you study. Afterward, you can use the annotation summary feature to view all your annotations at a glance.
The Xodo PDF Reader helps you read, edit and annotate your ebooks efficiently. You only have to maximize all the features it offers to make the most of your study experience.
PocketBook Reader is that app you opt for when you want an enjoyable reading experience on your Android device. You can read in any format; PDF, DOCX, TXT, CBT, etc. You can also pick up from wherever you started on any device after a break. What's more? Its integrated dictionary allows you to read ebooks in several foreign languages. The app supports MP3 and M4B audiobook formats and offers a text-to-speech function. So, if you like, you can listen to your ebooks in audio formats.
PocketBook reader is a quick and convenient way to read from your tablet or phone because it synchronizes your books, reading positions, and libraries across all your devices, enabling you to pause and continue studying on any device.
Its customizable functions allow you to personalize the settings to your taste. So, you can choose your preferred font, page margin, or background color on the app. These features create a more accessible reading process.
PDF Viewer Pro by PSPDFKit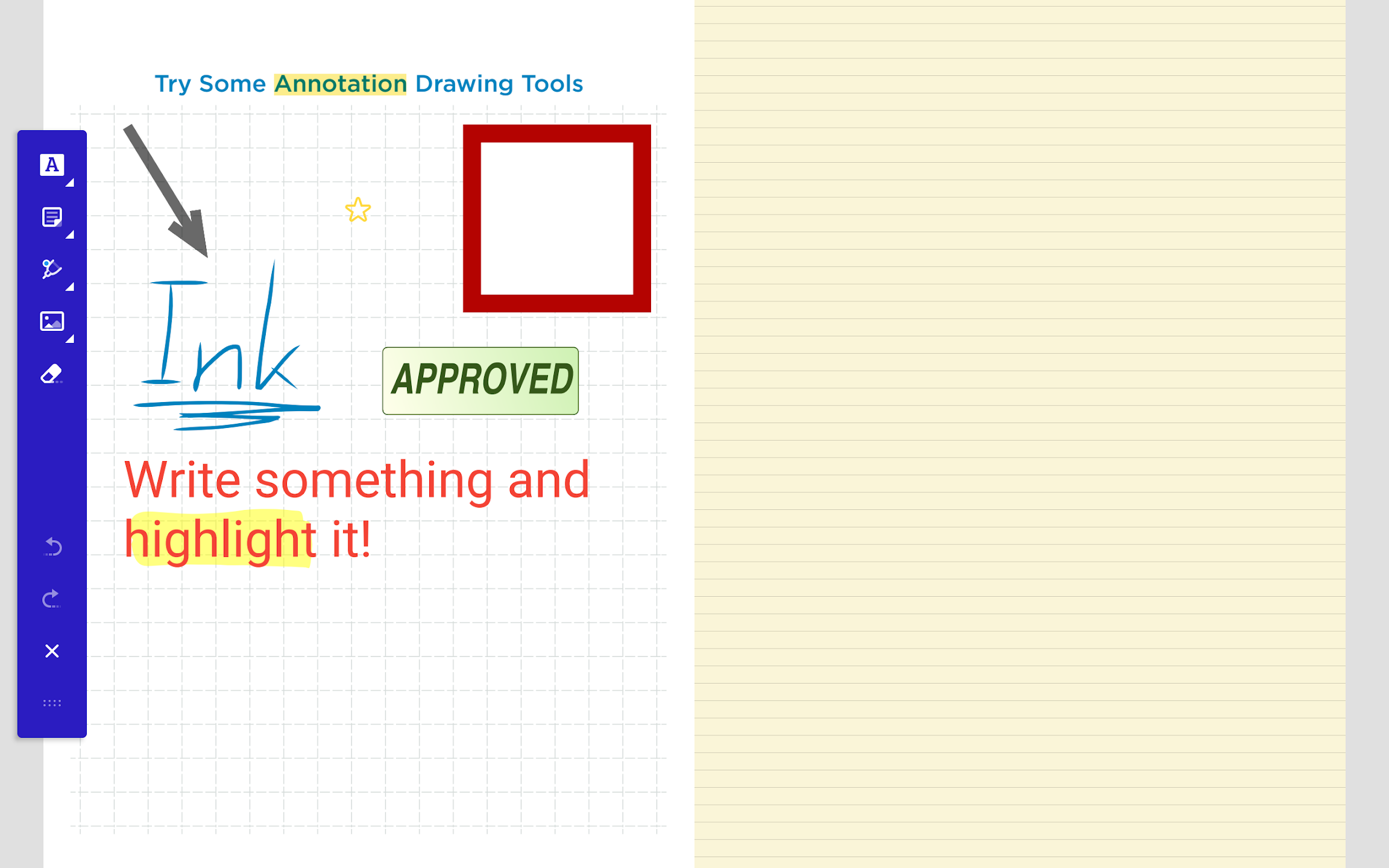 PSPDFKit released the PDF viewer Pro (an upgraded version to the free PDF viewer released in 2016) to empower users to do more with their PDF files on their Android or iOS devices.
This upgrade has various features that make reading, annotation, and editing ebooks easier, especially when collaborating with a team. For example, you can add your replies to annotations and review them directly on the PDF file. When you do this, every team member who accesses the file will see your annotations and add theirs, enhancing the communication process.
Its document info view feature lets you view and edit your document metadata effortlessly. For example, you can change a document's title, size, keywords, subject, etc.
Lastly, you can harness other advanced features to facilitate your study process, including custom behavior and user interface elements to personalize your experience with the PDF viewer pro.
EzPDF Reader is a functional PDF viewer and annotator for Android devices. It offers file management, PDF view, and PDF annotations features.
Its PDF view function enables a continuous vertical scroll, single page view with sideway scroll, thumbnail view, page navigation, and hyperlinks.
Its annotation functions also let you underline, highlight and cancel texts. Additionally, you can draw shapes, add lines, and include a rectangle and oval shape.
The downside to using this app is that it comes with an old, non-intuitive interface, so navigating the functions might be daunting. However, it makes up for this with other functional features, including annotation and editing texts.
Flexcil: The ultimate reading, editing, and annotation app on Android
When selecting an excellent reading, editing, and annotation PDF app on Android, Flexcil is the best choice. It provides a convenient reading and editing experience and is packed with features you can't find on similar apps including the pen gesture, reference links, ability to view PDF files and take notes simultaneously, among others.
So, if you want to read, edit, and annotate PDFs effectively on your Android device, download the Flexcil app for free on Playstore.
👇Download Flexcil from PlayStore👇
https://play.google.com/store/apps/details?id=com.Flexcil.Flexcilnote&hl=en&gl=US
….
Was this article helpful in discovering the best reading, editing, and annotation apps on Android?
Please share this article with your friends.
Thank you!🙂