Troubleshooting Errors when Upgrade to Flexcil 2
There are errors reported regarding promotion purchasing.
In most cases, the error is caused due to the account is not matched between the one used for download Flexcil 1, the one used when purchased, and the one used for download Flexcil 2.
So, the first thing you should do when migration does not work properly, delete both Flexcil 1 and 2 apps, and reinstall them.
※ Please note that data will also be removed when you delete the app. So, please make sure backup your file before delete Flexcil apps.
You can backup your data on settings.
– Flexcil 1 : Settings(
) > Backup&restore > Press Backup button > Export backup file
– Flexcil 2 : Settings(

) > Backup > Backup > Press Backup button > Export backup file
If in case the issue is not resolved,  the second possibility is Apple App Store can't bring user's purchase record properly.
When user requests purchase restoration from the app, App Store check your purchase history and returns the value. Since we only get the value from App Store and process the purchase migration based on the value, there is nothing much we can handle.
Followings are guides for resetting your device in case you experience error when migrate your purchase.
For this reason, if the purchase migration is not successfully completed despite you follow the guide bellow, we recommend you to contact Apple Support.
>> Contact Apple Support
Case 1.
Migration is failed on Flexcil 1 / If the message "Unable to Restore – This item was purchased by a different Apple ID. Sign in with that Apple ID and try again" is pop up
1. Check if your Flexcil 2 app is Standard version
Please check if your application is Standard version. To check it, please see the bottom left side of application.
If the yellow button is not there, it means the Standard version is activated.
2. Check device time setting
Device time should be set correctly : Go iPad setting > General > Date & Time > Enable 'Set Automatically'
3. Sign-out Account
Go iPad settings > Apple ID > Sign Out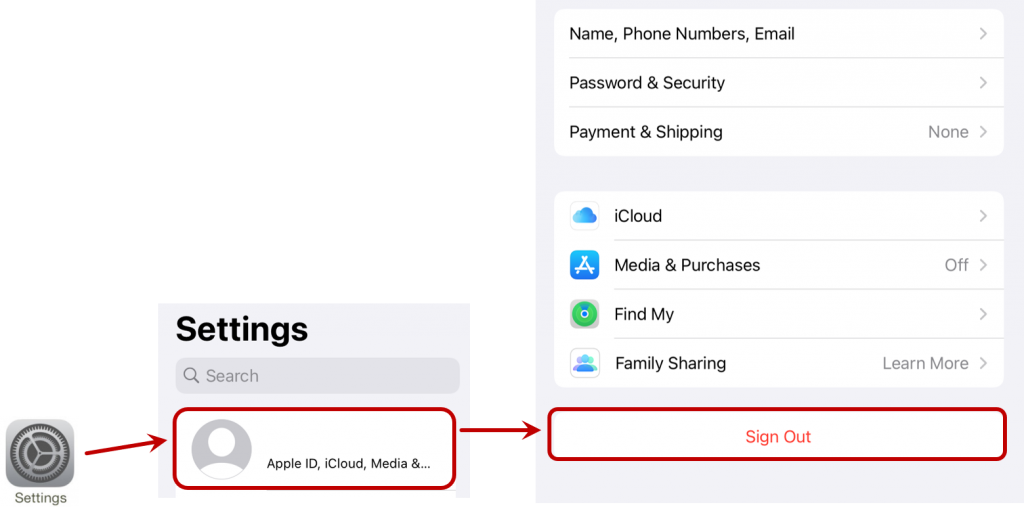 4. Reboot the Device
Reboot your device after sign-out your account
5. Sign-in with your Apple App Store account that you used for purchase Flexcil 1 (important!)
Sign in with your account on iPad (iPad settings > Apple ID)
The account should be the same account as you purchased Flexcil 1.
Flexcil 2 should be downloaded and installed with the same account above.
If in case the account you used for installation and purchasing is not the same, please delete the app and re-install the application using the same account you purchased the Standard version of Flexcil 1.
6. Check your internet connection & the version of applications
The device should be connected to the internet and both Flexcil 1 and Flexcil 2 applications should be updated to the latest version.
Please try again under the conditions above.
If your purchase migration is not completed successfully, please contact Apple Support. 
Here's an example.
 I tried to restore the purchase an application called Flexcil(Non-consumable in-app purchasing application) but failed to restore.
According to developer, Apple App Store returns the error messages like 'No Response' or 'Not correct Apple ID' in respose to restore purchasing.
Regarding this, I'd like to ask to check the purchase history of my Apple account and resolve the problem.
My Apple ID is XXX@XXX.com
Case 2.
If the message "This information has already been migrated and proceeded. Please restore your purchase in Flexcil 2." is pop up
If above message is displayed, it means your purchase migration has already completed successfully. But Standard version is not activated for some reason.
In this case, please follow the guide bellow. 
1. Restart Flexcil 2 application
Your purchasing is successfully done but paid functions might not be unlocked for some reasons. Please restart Flexcil 2 application in this case. 
2. Restore purchase
You can see 'Restore purchase' button if you press the purchasing banner. By press this button, you can restore your purchase.
Restore purchase should be processed using the same ID that you used for purchasing Flexcil 1.
Case 3.
Regarding migrate purchase between iPad and iPhone/devices installed iOS12 or earlier
I'm afraid migrate purchase from iPad to iPhone or to the devices using iOS12 or earlier, is not supported.  
To migrate your purchase without problem, your Flexcil 1 and Flexcil 2 application should be updated to the latest versions.